The SSD/HSB conversion takes a different approach to the shock adjustment.

Our goal is to create a downhill version of this shock, so we concentrate on setting the valving(SSD) for the frame leverage and terrain and put the pedal platform(HSB) feel in the adjustment.
This allows us to create a plusher, smoother feeling shock without the harshness that was created by the stock pedal platform internals.
In other words, we are starting with the middle, medium position as the standard setting rather than the softer position.

Technical discussion:

The low speed adjuster circuit is converted to our HSB system, this allows for a
increased low speed compression threshold that still blows off on small bumps
to create that small bump plushness without the harsh feel.
The HSB also provides for a smooth transition of low speed compression
to the main piston valving shim stack.

High and mid speed compression system is controlled by the custom valved speed sensitive shimmed compression main piston. This is set-up to match the leverage and rider terrain.
Mid and high speed rebound is controlled by a custom valved shim stack to match the riders weight(air can pressure) and the leverage of the frame.
Low speed rebound can now be fine tuned by the red rebound knob,
i.e. more usable positions rather than coarse tuning for air pressure.

Includes custom revalve and setup for rider, frame leverage and conditions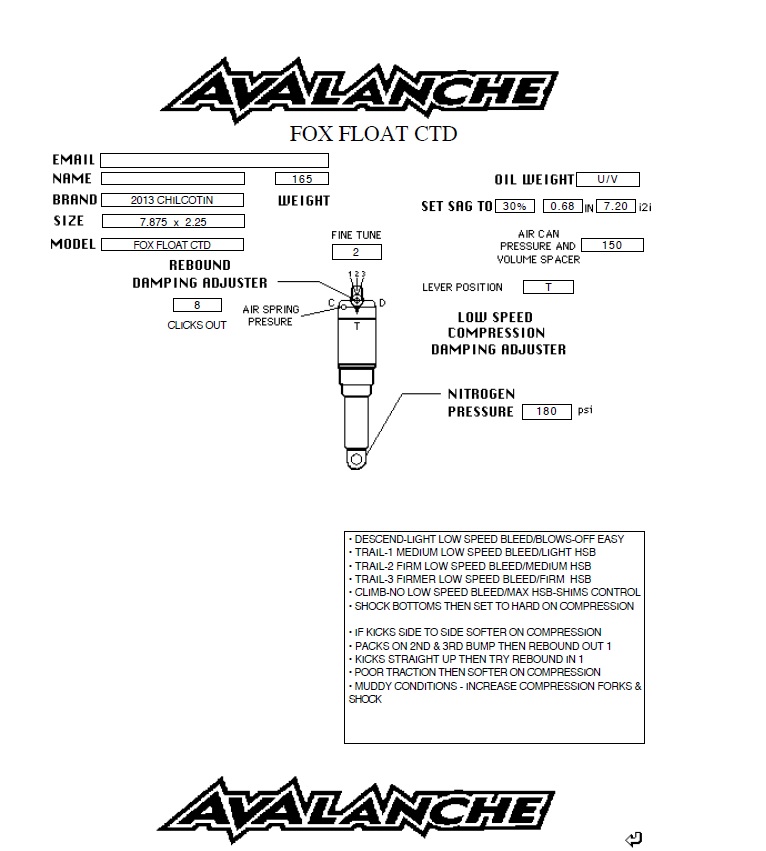 and printed set-up chart.

We will recommend the air can size and air can spacer if needed
Also includes complete rebuild service, oil, nitrogen charge and typical wear parts* included in price.
New lower friction, higher temperature shaft seal and IFP seal, and more reliable IFP charging puck.

*(Typical wear parts: shaft seal, reducer DU bushings, and o-rings)
**The shock must be in good working condition with no scratches or dents on moving parts,
if the air can is leaking, it should also be noted that air side will not be modified in anyway and any air side issues will not be addressed.
(Air can rebuild parts and volume spacers not included, these will be billed seperately if needed)
Service interval will remain the same as before the modifications)