Add option here
Hybrid Coil/Air system
The coil kit supports about half the rider weight and the air spring makes up for the other half of the support needed. Now the air side can be used to fine tune the spring rate needed as well as adjust the ride height for different riding conditions, also the air ramp-up can be controlled with the traditional tokens or aftermarket ramp up adjustment devices. The advantage of the hybrid system is versatility, performance, weight, and cost savings. It simply drops on top of our open bath damper side, only adds about 178 grams(250 grams for 8 inch fork), it solves most of the air spring issues in the first half of the stroke, where the friction forces and small bump compliance are critical, more supportive, it fills in the midstroke wallow of the air spring and corrects the ride height with physical adjustable preload. When the fork gets deeper in the stroke the spring force is more dominant and the stiction and air spring concerns are not as noticeable, so the final spring force is not as sensitive as long as it is more linear and removal of the tokens is now possible with proper damping. The air spring can be set to very low pressures and as linear as possible where it is nearly negligible. Ride height and spring rate can be fine tuned with the air spring pressure which is very helpful when in between spring rates and allows for different riding conditions. The equal force system is a very important feature because now the fork compresses equally with about the same spring rate in both stanchions, a single spring system causes the unsprung side to compress ahead the spring side because of the flexibility of the crown and lowers, this causes stiction in the first half of the travel which is more of a contributor than the air spring stiction. The abs system that we sell as an option to our damper and the Vorsprung system is not necessary because of the air hybrid ramp up is sufficient to prevent bottoming. We feel because of all these advantages, that ripping out the air spring for 160 mm fork and throwing in a long heavy coil system is not the most effective way. For our heavier riders we can simply drop a coil spring on top of the air side piston and create the same hybrid air system with more spring rate and ramp up as needed.

Hybrid Coil and Open Bath Damper System


Hydraulic ABS is not required for bottom-out protection but will improve deep square edged performance if used in lieu of air rampup.
Only available as an open bath cartridge system option.
Available for Fox 40 Float (203/190), Boxxer WorldCup(203/180), Fox 38 (150/160/170),Fox 36/Z1 Bomber(180,170,160/150/140), Zeb (150/160/170,180)
MRP, Pike 29er (2014-17) 150, Lyrik/Yari (160/150/140 limited to riders under 210lbs)
Dual Coil Open Bath Cartridge Damper System
Only recommended for older conversions where the air spring side does not provide adequate performance.

Description
With the dual spring system, one spring sits inside the positive air chamber using the stock air cap with adjustable preload.
The other dual spring sits on top of our open bath damper hydraulic ABS system in the damper leg.
The air shaft system provides the support for the spring, the o-rings are removed and air flow paths are added to defeat the air spring affect.
Top-out support is provided by a coil top-out spring inside the open bath cartridge along with the bumper in the air shaft negative chamber.

The Hybrid coil and air system uses only one spring on the damper side and the stock air spring system makes up for the remaining support needed.
This allows for a coil feel with a supportive midstroke, sag can be adjusted with air pressure and end stroke can be controlled with tokens or an aftermarket ramp device like the MRP ramp control or the Runt. Allows for easy adjustment on air side for when your rider weight and or gear and pack vary a lot.

Design Goals
Uneven compression from single spring systems adds friction and causes twisting of the arch and legs.
By placing a spring in each leg with very similar rates the fork can compress without twisting or leaning to one side.
Making two shorter and thinner wire springs keeps the weight of the coil system comparable to a single stiffer long heavy wire spring.
Shorter springs compress in a straighter line reducing rubbing forces and need less maintenance replacing shrink wrap and relubing.
Offering more increments is spring rates for the median weight rider allows for more precise matching of rider weights with the correct spring rate.
Hydraulic bottom out has no affect on midstroke over pressurization compared to air ramp up systems.
The hydraulic ABS and linear spring system allows for full travel on deep stroke square edged ledge and braking bumps.
Using the air spring system in conjunction with coil can create a hybrid spring system for use with heavier riders and a more progressive ramp-up if desired.

Currently we are offering a limited production front fork dual coil conversion option available now for 160 mm travel forks and rider weights of 165-215 lbs. This is an add-on option that installs as part of our open bath cartridge and is retro fit-able for current owners of our cartridge. Dual fork springs to reduce weight and torsion when compressing. Uses standard air shaft system with minor modifications to defeat the air chamber pressure system. Current pricing for the dual coils is $249, hybrid coil and air is $189 installed. Total weight of system is 340/170 grams. Dual coil system requires ABS hydraulic bottom-out system option with cartridge purchase.
The issue for coil conversion kits is the enormous amount of inventory required to suit all rider weights, models and fork travel differences. Currently we are only offering 2 spring rates and travel is limited to 160/150 mm for riders weights of 165-210 lbs. We can custom build the cartridge for 150 mm for riders weights of 160-190 lbs.
Spring rates set-ups available:
24 lb/in +24 lb/in=48 lb/in
24 lb/in +26 lb/in=50 lb/in
26 lb/in +26 lb/in=52 lb/in
Dual coil spring chart
| | | | | | | | | | |
| --- | --- | --- | --- | --- | --- | --- | --- | --- | --- |
| Rider weight/travel | 140-150 | 150-160 | 160-170 | 170-180 | 180-190 | 190-200 | 200-210 | 210-220 | 210-230 |
| 150 mm | | 48 | 48 | 50 | 52 | 52 | | | |
| 160 mm | | | 48 | 48 | 50 | 52 | 52 | | |
Adjustable preload 3 mm increments from 5 mm to 11 mm. Oil height adjustment damper side add progression.
ABS bottom out resistance adjustment in 3mm increments to reduce or increase affect.
Requires minor modifications to stock air shaft piston and seal head to defeat air pressure for the dual coil system.
Available for the Fox 36 160mm, Fox 40 Float, Boxxer WC/Air
Anti-Bottoming System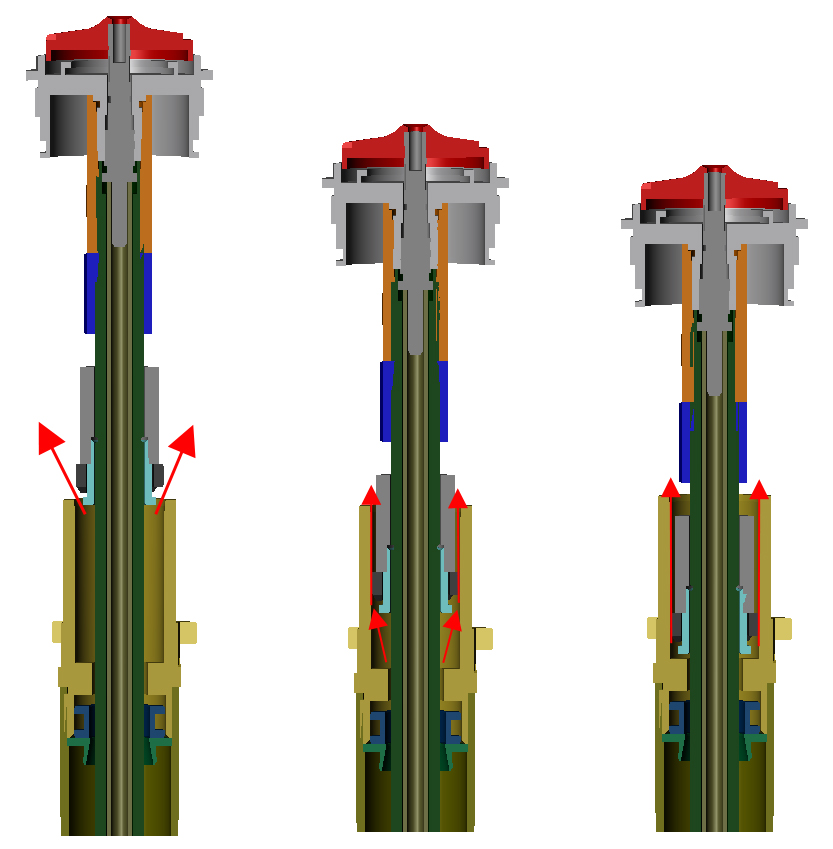 Shown above and below is the movement of the open bath cartridge oil lock ring as it reaches the bottom of the stroke, it is also adjustable in 3 mm increments to reduce the affect if desired. This allows you to add only the amount of bottoming resistance needed. All cartridge rods have multiple grooves to select the desired oil lock ring position.

For those debating on the ABS vs FvAT/HSB here is our recommendation
The abs is not normally needed unless you want to create a very linear feel by converting to coil or modifying the air side to be more linear (because most air forks are very progressive for the last 10 mm and act like a air bump stop anyways). The FvAT/HSB is needed if you do varying types of riding such as park groomed trails or jump lines which need a firm compression feel, and backside natural rocky and rooty trails need very soft high speed compression. This will force us to compromise your set up somewhere in between the two valving options. If we valve it for the park jump lines we can then use the FvAT/HSB system to create a blow-off system to prevent the harsh feel on the high speed rocks, roots and ledge bumps and retain the firmer valving for jump lines and groomed park trails.
Add option here
Dual Coil Option
Fox 36 (150/160) only
Only available when orfered with the open bath cartridge system option with ABS.